PayClix
[Online Bill Payment/Credit Card]
Updated:  10/2022
Paying your water bill online with PayClix.com 
Your LDWA water bill can now be paid online through PayClix.com. PayClix is a secure, fast online payment portal where you can use your computer, smartphone, or tablet to pay your bill on-the-go and make payments anytime, anywhere. For both online and mobile payments, you can pay via automated transfer from your credit card, debit card, or an E-Check.
You can pay by phone: (866) 729-2549. Talk to a Live Representative who will assist you. (Monday through Friday from 7:00AM – 3:00PM MT) or you can pay online.    
Register to make recurring payments
In order to register for a LDWA online payment account at PayClix.com, just click here to go to the "Payment Registration, Step 1" page (see screen shot below):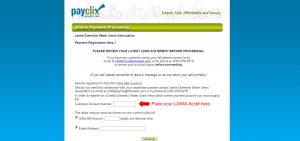 To pay your water bill you will need your water bill account number, located at the top of your water bill (see image below). Follow the instructions to complete the set-up. It's that simple.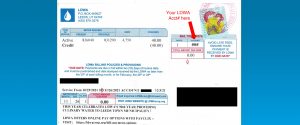 If you are already registered at PayClix.com, click here! You will see the "Welcome" page shown below.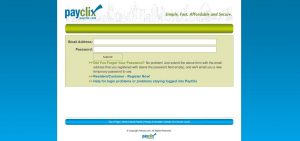 Need assistance?
Should you need any assistance with your registration, please contact LDWA by email at [email protected]
or by phone at (435) 879-0278, press #3 to leave a message in the General Inquiry mail box.
Your message will be immediately routed and a LDWA representative will be in contact.
How to set up recuring payments:
Once you have registered and set up an account with PayClix you can set up recuring payments.
Here are the quick steps.
If you come in from the Leeds landing page, you will need to Log In.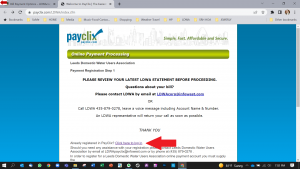 Enter the Email Address you Registered with & your Password
Once you Log In you will see a Online Payment Processing Page. To enroll in the recurring "Just in Time Automatic Submission service". "Click Here" to start that process.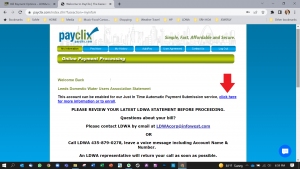 You now will be able to select which method of Payment you prefer. eChecks & Credit Card Payments have a transaction fee added for each payment.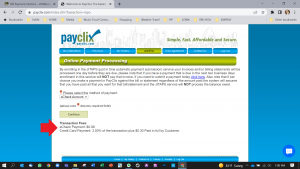 When you select "eChecks" you will be taken to a page like this to complete.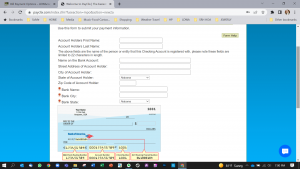 If you select "MASTRCARD" as your method of payment, your page will look like this.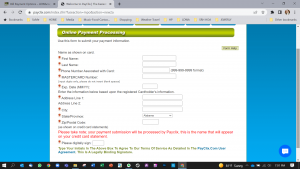 If you select "DISCOVER" as your method of payment, your page will look like this.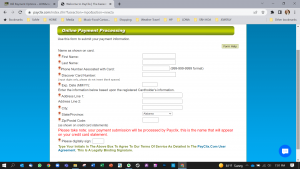 If you select "VISA" as your method of payment, your page will look like this.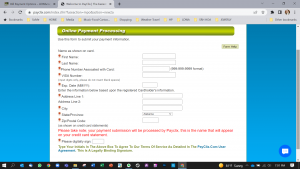 Looking to Update your PayClix Automatic Payment information (ie: Credit Card Info)
If you want to update your Automatic Payment information, you have to go to the AutoPay section (shown below), once you have  logged in your PayClix account.
Please see example: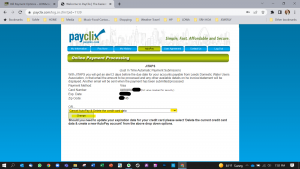 Once you are in the above AutoPay section, you will be able to view the information you currently have set up in PayClix and you will have the option to Cancel the AutoPay & Delete your Card information.
Once they've done this, you will see the screen shown below, which allows you to enter your new payment information for their AutoPay enrollment: